INKS ON THIS PAGE
---

---
Aviation Foundation
of America, Inc.

121 5th Ave. N.W.
Suite 300
New Brighton, MN 55112


651-255-1999


A 501(c) (3) public charity


---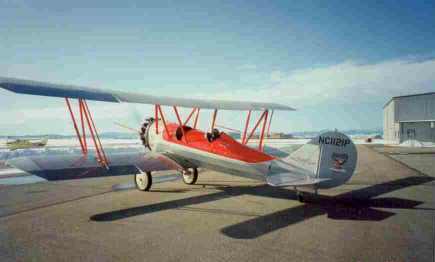 Alexander Eaglerock, A-2

Carl Williams and Glen Cruz will be flying this beautiful Alexander Eaglerock, just like the ones that flew in the 1926, 1927 and 1928 National Air Tours.

Glen Cruz is honoring Cloyd P. Clevenger


The Alexander Eaglerock bi-plane

The Eaglerock biplane, made famous by barnstormers during the 1920s, was manufactured in what is now downtown Englewood, Colorado, and later in Colorado Springs (which carry the "A- designation), by the Alexander Aircraft Company. Barnstormers landed the Eaglerock in farm fields across rural America in the 1920s and '30s, giving rides in these "new flying machines" to the brave souls willing to take the risk of flight. Ten-minute rides sold for 50 cents to a dollar.

One of the early Alexander Aircraft Company employees, a 19-year-old youngster name Al, had a job at the factory building aircraft wing ribs. Al was instrumental in the early success of the Eaglerock, his suggestions resulted in some significant design changes to one of the Eaglerock airplanes under construction. This youngster, Al Mooney, went on to found his own successful aircraft company.

The Eaglerock was popular with well known aviators of the day, including a noted early flyer known to some as "Slim." The Eaglerock was in the running with Bellanca as the aircraft-of-choice for Charles A. Lindbergh


Carl M. Williams

Carl has been flying for most of the last 52 years: 8 years in the Air Force and Air National Guard (F-51, F-80, T-33); 30 years in busness (Aztec, Navajo, Baron B-58, P-Navajo, Piper Cheyenne I, Cheyenne II). After 30 years in ownership and operation of cable television systems, for fun has owned a Maul M-5, a Citrabria, a Pitts S2B, F-33 Bonanza, and a Citation 500. He now operates a Saratoga TC, a 1929 Alexander Eaglerock, a 1929 Curtiss Robin and a Skyote, an experimental sport biplane.

Born in 1928 in Douglas, Wyoming, to a ranching family, Carl's father sold 30 head of steers to buy a 1927 Longwing Eaglerock. Carl completed two undergraduate years at the University of Wyoming and another two at the University of North Carolina (Chapel Hill). JD from University of Wyoming, 1956.

Carl serves on the Board of Trustees of the University of Denver and also the board of Wings Over the Rockies Museum in Denver. He is married to Lisa, has four kids and resides inCherry Hills Village, Colorado.

Carl Williams is honoring Paul R. Braniff


Wings Over the Rockies Air and Space Museum
---
---
ONE TWO

Read The Book Online


BUY A HARD COPY!
---