INKS ON THIS PAGE
---

---
Aviation Foundation
of America, Inc.

121 5th Ave. N.W.
Suite 300
New Brighton, MN 55112


651-255-1999


A 501(c) (3) public charity


---

This aircraft will have rotating pilots.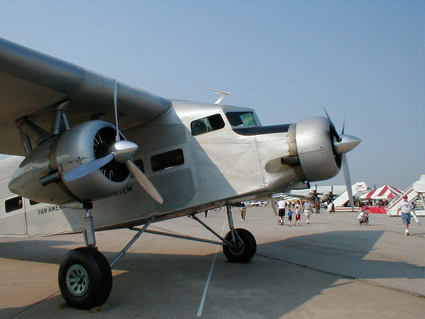 Bushmaster

The Bushmaster Tri-motor sits parked.


This Bushmaster, one of only two built, looks like a Ford Tri-motor but it is not.

The Bushmaster is an Official Ship of the National Air Tour carrying tour officials and cargo. This aircraft was an attempt in the mid 1950s by a California company to resurrect the design of the original Ford Tri-motors for use as bush planes, it was not built by Ford and is not called a Ford. Only two Bushmasters were ever built.

This aircraft flew in Alaska in the role for which it was intended in the 1960s an early 1970s. It was used to fly supplies, including Musk Oxen to remote Indian villages in Siberia!

The aircraft performs well with one engine out and has more than enough power with all three operating. It holds 366 gallons of fuel and burns around 60 gallons per hour. The cruise speed is approximately 115 mph and it just lumbers through the air like ship on the ocean. It is a slow and heavy aircraft to fly. The ship is identical to a Ford 5AT except it has a dorsal fin, aileron trim and the fuselage is a little wider. The re-creation was a brainstorm of William Stout after Ford terminated the production of the trimotor.




---
ONE TWO

Read The Book Online


BUY A HARD COPY!
---