INKS ON THIS PAGE
---

---
Aviation Foundation
of America, Inc.

121 5th Ave. N.W.
Suite 300
New Brighton, MN 55112


651-255-1999


A 501(c) (3) public charity


---

This New Standard is one of two brought on the tour by Rob Lock & Bob Lock(Waldo Wright's Flying Service) of Powell, OH.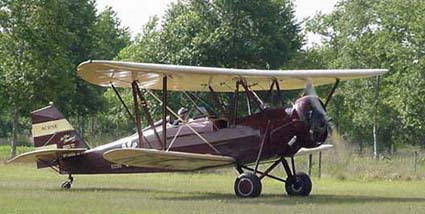 On The Runway

The New Standard sits on the runway.


Bob Lock

Bob Lock was always interested in airplanes and began by building models, particularly scale biplanes. He drew plans from Model Airplane News magazines,then scratch built the airplanes.

At age 16 he began building/repairing the real thing for his uncle, who had fleet of 6 Stearman biplanes modified for crop dusting in the small central California city of Hanford. In the back corner of the hangar was a black & orange WACO UPF-7, rarely flown and covered with dust. He decided that someday he would find a biplane in a barn somewhere and restore it to airworthy condition.

In 1957 he purchased a badly deteriorated Fairchild PT-19 and restored it to flyable condition. In 1959 he purchased a damaged WACO UPF-7. Later he acquired parts of 3 1929 Command-Aire 5C3 biplanes, found a deteriorated 1946 Aeronca 7AC, restsored it and commuted to work in the Champ. The first Command-Aire was finished in 1989 and flown from Lakeland, Florida to Reedley, California in 31.5 hours. Next to be restored was a 1942 Stearman, which was acquired in pieces. The Stearman flew in 1991. He acquired pieces of a 1929 New Standard D-25 which had spent its last years in Nicaragua.

He is Commercial Pilot, SEL/Rotorcraft , A&P/AI. Retired from 31 year career teaching Airframe & Powerplant Mechanics at Reedley College in Central California, he now maintains and flies New Standard biplanes for his son Rob, owner of Waldo Wrights Flying Service. Still married to original wife, Sandy. Two grown children, Cheryl and Robert, 4 grandchildren.

Bob Lock is honoring Reuben L. Wagner


Waldo Wright's Flying Service
---
---
ONE TWO

Read The Book Online


BUY A HARD COPY!
---