INKS ON THIS PAGE
---

---
Aviation Foundation
of America, Inc.

121 5th Ave. N.W.
Suite 300
New Brighton, MN 55112


651-255-1999


A 501(c) (3) public charity


---

This aircraft will be piloted by George Alleman and Rick Atkins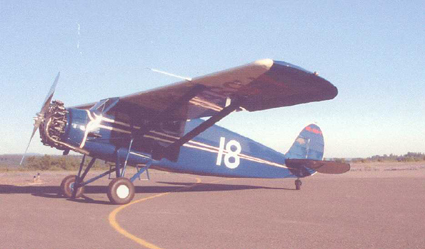 Side View

George's Stinson SM-8A is representing the Stinson SM-8A that flew on the 1931 tour. It also carried #18!

Airplane Information
Stinson, NR 469Y was certified October 3, 1930 in Wayne Michigan. It was first used for aerial advertising at Providence, RI. Large radio speakers were installed in the belly and the ship was flown up and down the seashore advertising for local merchants. For many years the airplane was used mainly for commercial activities such as charter, air taxi, flying billboard, and flight instruction.

When World War 2 began 469Y was taken to Beaumont, TX and used by the Civil Air Patrol for anti submarine patrol over the Gulf of Mexico. 1944 the plane was flown to Moffett Field, Sunnyvale, CA where it was used to tow targets for Home Guard gunnery practice. With the end of the war the plane eventually made it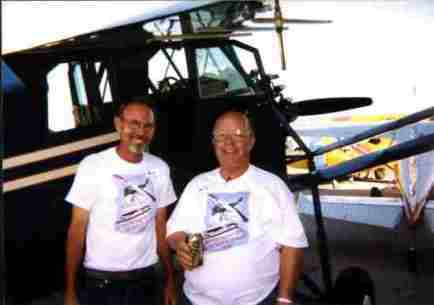 Fred Alleman & Rick Atkins are flying the wonderful Stinson SM-8A

George (Fred) Alleman. Began flying light aircraft in 1955 at Fair Oaks Phoenix field, CA while in the U.S. Air Force. Upon leaving the Air Force returned home to the S.F. bay area and began training to acquire advanced ratings and fly some charter and light scheduled air service. Hired in 1966 by Pan American World Airways and flew as flight navigator and pilot until retirement in 1985. Worked on the Stinson NC 469Y until it


---
ONE TWO

Read The Book Online


BUY A HARD COPY!
---