INKS ON THIS PAGE
---

---
Aviation Foundation
of America, Inc.

121 5th Ave. N.W.
Suite 300
New Brighton, MN 55112


651-255-1999


A 501(c) (3) public charity


---

Piloted by Richard Hornbeck of Bowdoinham, ME and Roger Poor of Mount Vernon, NH.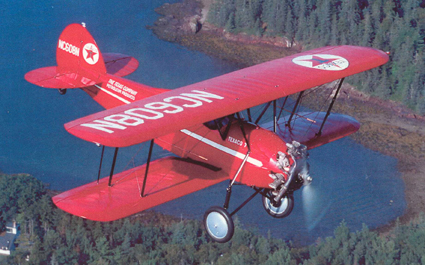 In Flight

The beautiful WACO ASO in flight over beautiful territory.


Richard Hornbeck

Rick Hornbeck was like many kids in the 1950's who built and "flew" model airplanes. In the 1960's he was able to rent a Piper Cub in Maine for $8.00 an hour (fuel included), and after accumulating enough hours he obtained his private pilot's license. After several years away from Maine and flying, Rick returned to Maine, purchased a farm, installed an airstrip and has been flying vintage aircraft from his farm for the past 25 years. In 1985 Rick became a volunteer pilot for the Owl's Head Transportation Museum in Rockland, Maine and continues to regularly fly their aircraft - including the 1917 J-1 Standard and the 1941 Stearman. In the 1980's Rick acquired Waco 608N, which required almost 15 years to fully restore. In the 1990's Rick became a licensed commercial pilot with an instrument rating and in 1999 Rick and co-pilot, Roger Poor, flew the Waco from Maine to California and back, covering approximately 7000 miles in 14 days. Rick and Roger look forward to participating in the National Air Tour and sharing their love of flying with others.

Richard Hornbeck is honoring Harold Pitcairn


Roger Poor

I began flying at the ripe old age of 4 in my mother's lap and my father at the controls of an Aeronca Sedan. My ceiling was soon decorated with model planes that eventually wound up in my mother's flower garden. Flight instruction started when I was 15. I would always ask my mother to drop me off at the airport out of sight of the instructor's office to avoid being seen as not having a driver's license. Did not keep track of how many lawns were mowed or leaves raked to earn my pilot's license, but at least got it exactly on my fortieth hour of flight time. From there went on to instrument and sea ratings. Had some crazy adventures with Rick Hornbeck in a J-3 along the coast of Maine (seemed as though I was the one who had to always pull the prop) that led to crossing the country 3 years ago in the WACO. Guess I still haven't learned my lesson.

Roger Poor is honoring Lewis A. Yancey


---
ONE TWO

Read The Book Online


BUY A HARD COPY!
---