INKS ON THIS PAGE
---

---
Aviation Foundation
of America, Inc.

121 5th Ave. N.W.
Suite 300
New Brighton, MN 55112


651-255-1999


A 501(c) (3) public charity


---

This plane is piloted by Addison Pemberton of Spokane, WA and Larry Howard of Greenacres, WA.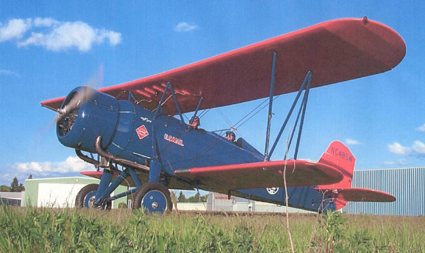 Stearman 4DM Senior Speedmail

The Stearman 4DM Senior Speedmail sits poised for takeoff.


The Crew of NC-485W

Larry Howard and Addison Pemberton are the pilots of this Stearman 4DM Senior Speedmail. With all those beautuful ships in the background, no wonder these guys are smiling!


Addison Pemberton in Period Costume

Many pilots on the National Air Tour will be wearing period clothing. Addison is even going to wear his 1920s mechanic's suit on occasion. Hopefully he won


Larry Howard, owner of an original Tour Ship, will be flying with Addison Pemberton. Larry's ship could not be ready in time but he's carrying part of it with him!


Larry Howard, a 57 year old family dentist, was born and raised in the Pacific Northwest. Educated at Washington State University and Creighton University, he and his wife, Joan, live at Skymeadows airpark outside spokane.

A Pilot since 1990, Larry has owned and flown an assortment of Cessna and Beechcraft before catching the Old Airplane Disease from an aerobatic ride in a Stearman. Both open biplanes and aerobatics are contagious and soon he was explaining to Joan why he should buy a wrecked Great Lakes in Guatemala.

After that came a 1930 Laird which flew in the 1931 Air Tour. While that aircraft will not be ready for the 2003 tour, a number of it's original parts will travel with him on the tour.

Larry Howard is honoring Thomas B. Colby.


Addison Pemberton, that "Little Known Aviator" but everyone's hero.


Old Airplane disease sunk deep and fast while growing up in San Diego Calif. My dads Cessna 170 was based at Gillespie field filled with Antique airplanes owned mostly by American and PSA airline pilots. Stated flight training in the family 170 at 15 soled at 16 and worked up through my private, commerical, INST, MEL, SES, SEL and CFI and A&P as fast as time and money would allow.

I finished college in 1976 and started work as an engineer in the family flight test and wind tunnel business (Scanivalve Corp). Started buying up duster Stearman parts and old airplane projects with every pay check though out the late 1970"S and 1980's. With a few PT Stearman projects under my belt and other fun old airplanes a search for an antique airplane project with historical significance began. This lead me the 1931 Stearman Sr Speedmail project I fly and treasure today.

This aircraft required a 5000 hr restoration effort with 60% of the airplane scratch built. I have acquired 9500 hours in tail wheel aircraft to date with 3000+ behind radial engines. I enjoy giving flight instruction in the "old stuff" with one of my greatest joys having taught my 2 boys and wife to fly. My boys have become competent "old airplane drivers" now as well. We currently operate a small collection of 6 aircraft from our new home as on 1995 in Spokane Washington Felts Field (Gods country).

I am honored to have been selected by Mr. Herrick to participate in the" 2003 national Air Tour" along with many life time old airplane friends.

Addison Pemperton is honoring David P. Levy.


Addison Pemberton & Sons Pegging the Fun Meter!
---
---
ONE TWO

Read The Book Online


BUY A HARD COPY!
---