INKS ON THIS PAGE
---

---
Aviation Foundation
of America, Inc.

121 5th Ave. N.W.
Suite 300
New Brighton, MN 55112


651-255-1999


A 501(c) (3) public charity


---

This aircraft is flown by John Coussens of Stanwood, WA.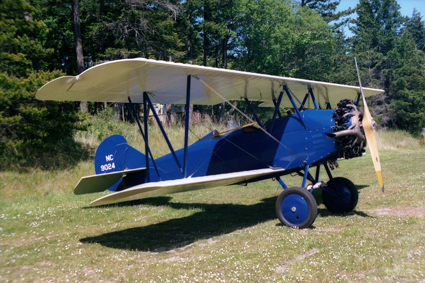 Travel Air, NC-9024

The aircraft sits parked on a grassy field.


Piloted by John Coussens of Stanwood, Washington. John Coussens grew up literally in the shadow of aviation. Aside from being raised beneath the airspace of Edwards Air Force Base, John was the youngest of three children, so he always got stuck with the job of cleaning oil from the belly of his father's Twin Beech! At least it was cool under there, the plane's shadow providing relief from the harsh desert sun. Lancaster, California was his hometown, and he grew up surrounded by pilots and aerospace engineers. As John grew older, trips to Flabob and Oshkosh fueled his knowledge of planes and the people who flew them. Rebellious as all children are, however, John broke away from aviation and took a ten-year detour into auto racing. But the planes kept beckoning... Even as John finished college and set up his own car race team, he couldn't help but head to Oshkosh every year he could hitch a ride. One Sunday in the late '80s, John turned left out of his driveway instead of right, to the airport rather than the racetrack, and took his first flight lesson. He took over two years, but through nine flight instructors, six different airports, five aircraft types in four cities and three states, using two student pilot certificates, John finally got his pilot's license on Mother's Day of 1991. Since then he


---
ONE TWO

Read The Book Online


BUY A HARD COPY!
---