INKS ON THIS PAGE
---

---
Aviation Foundation
of America, Inc.

121 5th Ave. N.W.
Suite 300
New Brighton, MN 55112


651-255-1999


A 501(c) (3) public charity


---

This beautiful cabin WACO, one of the oldest of it's type flying in whe world will grace the skies along with the National Air Tour 2003. This magnificent ship will be flown by its owner, John Swander of DeSoto, KS and by Forrest Lovley of Jordan, MN.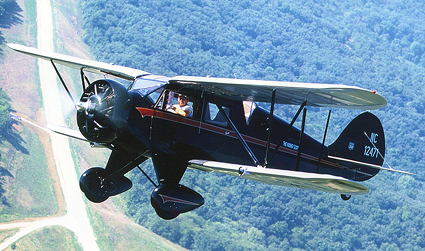 The WACO UEC In Flight

John Swander flies his beautiful WACO over Antique Airfield, headquarters of the Antique Airplane Association. You will see this beautiful ship in the National Air Tour!


John Swander

John Swander has been rebuilding antique airplanes since 1979. He is flying in the tour in his 1932 Waco UEC Cabin Biplane that he spent 10 years rebuilding and finishing in late 1999. This plane won the Grand Champion Oshkosh 2000. He now has around 150 hours on the plane. He makes his home in Desoto, KS (near Kansas City). John is really looking forward to meeting people along the tour and seeing the country through the struts of a biplane.

John Swander is honoring Walter E. Lees


Forrest Lovley

Forrest Lovley was born in 1946 in northern Maine, and received his exposure to aviation from his father, who usually had an airplane around to use in his love of hunting, trapping, and fishing. After moving to Minnesota, Forrest learned to fly at the old Southport Airport south of Minneapolis, soloing at age 16 and getting his Private license at 17. The day after graduating from high school, he left for Maine flying a borrowed Pietenpol powered with it's Ford Model A engine to visit his relatives. The next forty years have been filled with many antique restorations and various homebuilt airplanes. He currently flies a 1947 Piper PA-11 and a 1972 Wittman Tailwind, and has a few antique airplanes under restoration, including a 1929 Cessna DC-6 and 1933 Waco UBF-2.

Forrest Lovley is honoring Edwin O. Cooper


---
ONE TWO

Read The Book Online


BUY A HARD COPY!
---