INKS ON THIS PAGE
---

---
Aviation Foundation
of America, Inc.

121 5th Ave. N.W.
Suite 300
New Brighton, MN 55112


651-255-1999


A 501(c) (3) public charity


---

These are the Husky Scout ships that will accompany the National Air Tour. One will be the lead ship out and the second, the last ship to depart.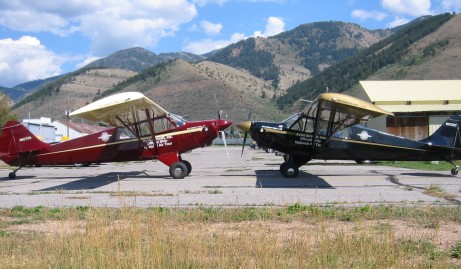 Husky Scout Ships

These Husky aircraft, both built within the last month, are manufactured using the same basic tube and fabric techniques as most of the vintage aircraft on the National Air Tour.

As Official Ships of the National Air Tour 2003, the Aviat Huskys build on a tradition established more than 75 years ago. The airplanes will serve two critical roles similar to those played by Official Ships on the original Air Tours. The first Aviat Husky will function as a scout ship, departing each Tour stop approximately two hours ahead of the rest of the ships. The pilot will observe flying conditions, such as weather and airport conditions, and communicate those reports back to the other Tour ships. The second Husky will be the last ship to depart a given Tour stop, observing the ships in front. The pilot will report on, and offer assistance to any ship which may have to divert from the Tour route for any reason. The Husky airplanes will be painted in original National Air Tour paint schemes using the same colors as past Official Ships.

Pilots experienced in backcountry flying, navigation and weather observation skills will be assigned to fly the Huskys. The ships will be equipped with the latest radio communications, global positioning satellite navigational equipment with moving map displays, satellite telephones and first aid gear. On many legs of the Tour a second observer will be assigned to assist each pilot.

Conceptually based on the world-famous Super Cub but with improvements a modern pilot would want, the Aviat Husky is a tube-and-fabric utility aircraft designed to carry two people in comfort along with an extraordinary load. The versatile, long range Husky can be flown in and out of primitive clearings, ponds, rivers, beaches, glaciers, sand dunes and the occasional paved runway. Husky airplanes are being used as observation platforms by law enforcement agencies, power and gas companies and environmental protection agencies. Other pilots, including actor Harrison Ford and author Steven R. Koontz fly their Husky airplanes for the sheer joy of the experience.


Aviat Aircraft
---
---
ONE TWO

Read The Book Online


BUY A HARD COPY!
---