INKS ON THIS PAGE
---

---
Aviation Foundation
of America, Inc.

121 5th Ave. N.W.
Suite 300
New Brighton, MN 55112


651-255-1999


A 501(c) (3) public charity


---

The Bell 47 is an escort ship for the tour piloted by Dr. Richard Sugden.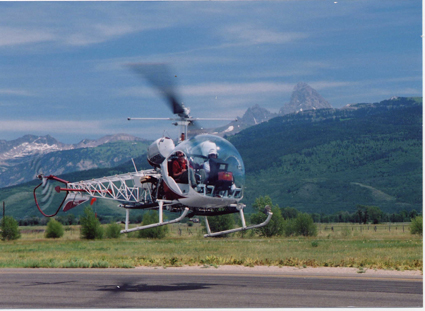 Bell 47 Landing

Rich Sugden brings the Bell 47 in for a landing with the Grand Tetons forming a fantastic backdrop.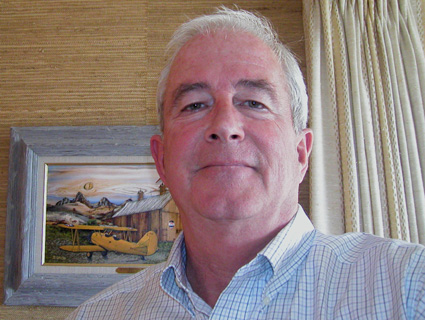 Dr. Rich Sugden

Dr. Rich Sugden, pilot of the Bell 47 is a flight physician and piloting the official NAT escort helicopter. A Navy man, This self-portrait also features a painting of his Navy N3N in the background. Rich also flies jets, but we won't hold that against him!


Dr. Richard Sugden


Rich followed in his dad's footsteps as a general aviation pilot, soloing at 16 and earning his license while still in high school. To built time he flew helicopters for local TV station (not the easiest ships to fly).
As a USN Flight Surgeon, he trained in T-28's in Pensacola and then went left for the Naval Air Test Center where he served as a USN Test Pilot School Flight Surgeon at Patuxent River from 1970 - 1974.

Thoroughly hooked on military aviation, esp. USN, he restored a T-28 then a T-2 and a Grumman Albatross which he later flew to Australia. He is partners in an SNJ-5 and also owns an N3N and a T-34 which is just now coming out of restoration. He hopes to one day own all of the Navy trainers.

When he's not flying these ships he my be seen in a MiG-15, FJ-4B or an Alpha Jet ... but he really enjoys the freedom of flight offered by helicopters. He even built a homebuilt helicopter several years ago -- the "ramp sweeper" at Teton Aviation in Driggs, ID.

Rich Sugden, is really looking forward to flying support for the NAT and meeting some great pilots.

Richard Sugden is honoring Lawrence B. Richardson


Teton Aviation is a great spot in Driggs, Idaho. You can have a great meal, meet great people and see a few of Rich's aircraft.
---
---
ONE TWO

Read The Book Online


BUY A HARD COPY!
---