INKS ON THIS PAGE
---

---
Aviation Foundation
of America, Inc.

121 5th Ave. N.W.
Suite 300
New Brighton, MN 55112


651-255-1999


A 501(c) (3) public charity


---

This aircraft is piloted by Wm. Ben Scott of Reno, NV and Kelly Scott of Reno, NV.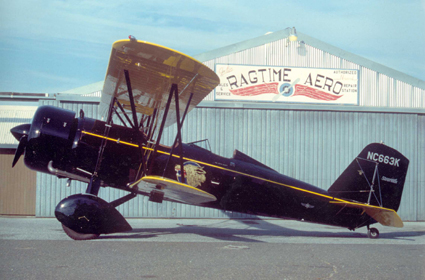 Side View

Side view of the Stearman 4E Speedmail.


The Pilot

The pilot of the Stearman 4E Speedmail, Wm. Ben Scott.


Wm. Ben Scott

Ben Scott grew up in the shadow of aviation. His father, Keith Scott, learned to fly in 1927 and owned several airplanes of the period. He was a production pilot for Douglas during World War Two when Ben was a child. Ben flew with his father in the Los Angeles area in the 40's and 50's.

Wm. Ben Scott is honoring James H. Doolittle. Ben learned to fly in an Aeronca Champion in 1961. He continued as a private pilot until 1965, when the pressures of marriage, home ownership and children (4 boys) took precedence. Aviation was dormant for him until 1985, when the opportunity arose to purchase the 1930 Stearman that his father bought new. Then it was back to the Aeronca for recurrency training.

Ben has flown the Stearman to Galesburg for the Stearman fly in twice, and to many other western air shows. Along the way he bought a Starduster Too and a T-28, the latter a veteran of the Laotian conflict. When he had enjoyed all he could stand of the T-28, he sold it and bought a 1944 Howard DGA. Along the way he acquired a multiengine and instrument rating.

The Stearman Speedmail has been restored again and will visit Oshkosh in July. Then it will be off to the National Air Tour. This will be the first time this airplane has been that far east since Keith Scott flew it there in 1930. It is expected that Ben's son Kelly, Keith Scott's grandson, will fly part of the route.


Scott Motor Company, Reno, Nevada
---
---
ONE TWO

Read The Book Online


BUY A HARD COPY!
---