INKS ON THIS PAGE
---

---
Aviation Foundation
of America, Inc.

121 5th Ave. N.W.
Suite 300
New Brighton, MN 55112


651-255-1999


A 501(c) (3) public charity


---

This aircraft will have rotating pilots.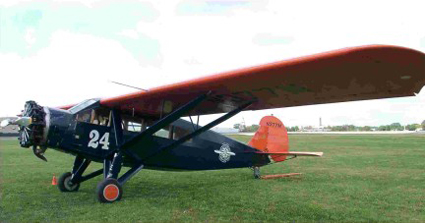 Parked

The Travel Air sits parked.


This Travel Air, model A-6000-A was built in 1929


A Prototype Model Travel Air 6000 was rolled out and flown for the first time on April 15, 1928. This monoplane transport was powered with a 200 h.p. Wright J-5 Whirlwind engine and had accommodations for six is a heated cabin fitted with roll-down windows.

Basically the same as the six seat Model 6000; the A-6000 a developed in answer to the urgent demands of various airlines for a high performance single engine monoplane.

The new model was slightly larger the basic model 6000. The cabin was soundproofed and offered comfortable accommodations for up to six passengers with easily removable seats for bulky cargo. Northwest Airways, Central Air Lines and Overland Airways among others used these aircraft, which had the advantage of speed and rapid climb rates. Progressive businesses also purchased the 6000, as did private owners of some affluence.

Some 25 examples of this model were built. This particular aircraft had perhaps the most unusual assignment of all. It spend most of its life flying in the Grand Canyon


---
ONE TWO

Read The Book Online


BUY A HARD COPY!
---