INKS ON THIS PAGE
---

---
Aviation Foundation
of America, Inc.

121 5th Ave. N.W.
Suite 300
New Brighton, MN 55112


651-255-1999


A 501(c) (3) public charity


---

This aircraft is piloted by Andrew King of Elkwood, VA, Phil Chastain of St. Louis, MO, and Mr. Al Stix, Sr. of St. Louis, MO.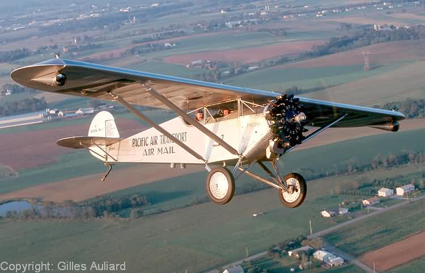 Over Farmland

The Ryan M-1 flies over farm land.


Phil Chastain -- Born to Fly and Born in Flight!


Phil Chastain was born to fly. In fact, he was born during a flight.

His father was bringing his mother (Maybelle) back to Wichita in a Beech 18, when premature labor produced Phil. With the aircraft on autopilot (altitude hold only), Phil was delivered by his father Jack - assisted by a younger 3 year old brother Terry.

Phil learned to fly when he was 10. He soloed an Aeronca Champ at 11 (his father just told him to keep it lower than the tops of the corn, and no one would be the wiser). After college, he became Monsanto's youngest chief pilot at 21 - easing his father into retirement. As a test pilot for Lear, he landed a Model 23 on the USS Enterprise without aid of arresting gear - hooking the #2 wire with the main gear. His current job is chief pilot for the HISTORIC AIRCRAFT RESTORATION MUSEUM - where he has flown everything from "Jennies to Jets" - probably the dream of all pilots.

Phil has soloed 347 aircraft up to this point - and amassed almost 27,000 hours - the vast majority of it in the Champ, which he still owns.

His hobbies include Tiddly Winks, at which he and his brother are co-national champions - Terry being the Tiddly, with Phil serving as the Wink.

Phil Chastain is honoring Zantford Granville


Andrew King

Born in 1962, Andrew had the good fortune to grow up to the sights and sounds of Fokkers and Sopwiths at the Old Rhinebeck Aerodrome in upstate New York. His father was and still is a pilot there, and a number of family members were involved in the weekly airshows. As a teenager he graduated from washing the airplanes to flying them, soloing in a Piper Cub at sixteen, and flying my first airshow at nineteen. Some of the airplanes Andrew flew at Rhinebeck included the Great Lakes 2T-1A, Fleet 16B, Davis V-3, Fokker Triplane, Curtiss Jenny, and my father's DeHavilland Tiger Moth.

During this time he got his Airframe and Powerplant mechanic's license from Parks College in Cahokia, Illinois, and an English degree from Nyack College in Nyack, New York. He has managed to make some use of both, working on airplanes ever since, and occasionally writing articles for various aviation magazines.

After flying several years of shows at Old Rhinebeck he became something of a soldier of fortune of antique aircraft, working for a time in St. Louis at Creve Coeur Airport helping restore a Monocoupe, spending a couple of years in upstate New York working on a 1929 New Standard, then moved to Florida and took care of Kermit Week's collection of flying World War 1 aircraft at his old museum in Miami. After Hurricane Andrew blew down the museum and destroyed his apartment he thought it was time for another change, and went to Virginia to work for Virginia Aviation Company, building an exact replica of the U.S. Army's first airplane, a 1910 Wright Model B, which is now at the Army Aviation Museum in Ft. Rucker, Alabama. They also restored a Curtiss Jenny now at the College Park Air Museum in College Park, Maryland.

In the spring of 1996, he travelled across the country to California, to work in Paso Robles for collector Javier Arango, who has a dozen or so World War 1 aircraft. Ther he was able to fly such aircraft as the Nieuport 28, Fokker D.VII, and one of the Pfalz D.III replicas from the movie "The Blue Max".

After a short time in California, Andrew decided that it was time to work for myself, and moved back to Virginia to open his own shop. Since then some of the aircraft he has worked on include a 1928 Travel Air, a 1930 Monocoupe, a 1929 Krieder-Reisner KR-34, still in the works, and a number of other partial projects.

Occasionally Andrew gets to see himself on TV, last year he helped to make a GE commercial which shows a Wright brothers airplane powered by a GE jet engine, and with some of the same people was on The Learning Channel's "Junkyard Wars" program. For "Junkyard Wars", he was tasked with building a Wright-era aircraft in 2 days, using material from the junkyard, and then flying it. There were teams from England and France competing with them, and although they didn't win, it was a lot of fun. He was chosen as the team pilot, and after some trials and tribulation managed to get the replica 1910 Walden monoplane airborne for two flights.

Hi biggest recent personal accomplishment was completing the rebuild of the 1926 Ryan M-1 mail plane that he and Phil Chastain will be flying on the Air Tour. It was a five year, mostly part-time process, but the rewarded was trophies at both Oshkosh and Sun 'N' Fun. He put 140 hours on the M-1 flying it around the eastern US, and this spring sold it to Al Stix in St. Louis. Some of the money went to buy a 1930 Fleet 7 to have fun with, the balance going to a Nieuport 28 replica that he is building in hi spare time, using an original 1918 Gnome rotary engine.

Another of his involvements is in the Golden Age Air Museum (www.goldenageair.org) in Bethel, Pennsylvania, a growing organisation with a collection of flying vintage aircraft. Events are held once a month, and he performs at the annual airshow where he does a dead stick aerobatic act in his 1939 Taylorcraft, and as an "escaped convict" steal a Breezy and do some crazy flying.

I've been very fortunate in life to fly over 100 different types of aircraft, all but a few from the antique and classic era, and have ferried vintage aircraft all over the US, once flying a Waco UPF-7 from Anchorage, Alaska, to St. Louis. Hopefully there's more of the same to come.

Andrew King is honoring Vance Breese


Historic Aircraft Restoration Museum
---
---
ONE TWO

Read The Book Online


BUY A HARD COPY!
---