INKS ON THIS PAGE
---

---
Aviation Foundation
of America, Inc.

121 5th Ave. N.W.
Suite 300
New Brighton, MN 55112


651-255-1999


A 501(c) (3) public charity


---

This is aircraft is piloted by Clark Seaborn, Don McLean, and Bob Cameron, all of Calgary, Alberta.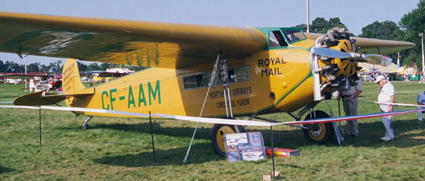 On Display

The Fokker Super Universal sits on display.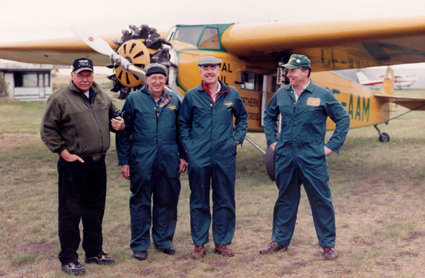 The Crew

The Crew of the Fokker Super Universal.


Bob Cameron - Crewmember of Fokker CF-AAM

Born in 1945, I grew up in the Yukon in an aviation family immersed in the development of northern commercial flying. My dad, my grandfather and three uncles were all working for Grant McConnachie when he formed Canadian Pacific Airlines in 1942.

I soloed in a 1946 Fleet Canuck at age 16, Private Licence at 17, and Commercial Licence after attaining a university degree in Mechanical Engineering. My love of the radial-engined classics goes back to my memories as a youngster when the last of the Wacos and Fairchild 71's were still plying the Yukon skies, and our connection with the "outside" world was by Canadian Pacific Airlines DC-3.

In my commercial flying career, which has been throughout the Yukon, western Arctic and northern Ontario, I have been fortunate enough to have been paid (!) to fly Beavers, Otters, Norsemans and DC-3's. I am also licenced on helicopters, including the classic Bell 47 series and Hiller 12E. On a non-commercial basis I have been lucky enough to get time on many more classic antiques.

Of course, my career hi-lite has been flying the Fokker Super Universal CF-AAM, which I dug out of the bush as a chopped up skeleton back in 1974.

Never in my wildest dreams did I ever think we would someday (25 years later!) be flying it to Oshkosh, and then throughout British Columbia and back to its 1930's haunts in the Yukon, and now throughout half the United States, all made possible by the incredible restoration talents of Clark Seaborn and Don McLean.

Bob Cameron is honoring Egbert P. Lott


Clark Seaborn

Clark Seaborn is one of those people infected by a love of history and a love of flying machines- so it was only natural that historical old airplanes would become part of his life. After completing a university degree in civil engineering and starting a consulting business in that profession, he found time to complete a private flying license and a homebuilt airplane. Then the artifacts of another airplane, a 1933 vintage Waco followed him home. This became a 5 year project of research and restoration, followed by 800 hours of delightful flying in business travel and pleasure.

A more recent project to follow him home, but the oldest and largest project so far, is a 1929 Fokker Super Universal. Parts for this also followed him home after visits at several crash sites in the Canadian north. This project is owned by the Western Canada Aviation Museum in Winnipeg, Manitoba, Canada, and was taken on and sponsored by Clark in the understanding that it could be flown, and seen and heard for 5 years following restoration.It is this 17 year restoration which Americans will see on the National Air Tour.

Clark Seaborn is honoring Anthony Fokker


Don McLean

Don was introduced to the joys of Aviation during a flight over downtown Calgary in an Aeronca Champ with his Father shortly after the end of WWII was one of his earliest recollections.

This was re-enforced by assisting in the rejuvenation of a deHavilland Tiger Moth a few years later, and the rest they say is history. He earned his wings with the RCAC, and gravitated into the aircraft maintenance field. Don flies a PT-26A which he and his wife restored and has been in the family for many years, but admits to spending much more time tinkering with airplanes than in the air. Grateful for the opportunity to assist in bringing a part of our flying heritage to the public during the National Air Tour.

Don McLean is honoring R.R. Blythe


Explore North -- More info on the Fokker CF-AAM
---
Western Canada Aviation Muesum
---
---
ONE TWO

Read The Book Online


BUY A HARD COPY!
---