INKS ON THIS PAGE
---

---
Aviation Foundation
of America, Inc.

121 5th Ave. N.W.
Suite 300
New Brighton, MN 55112


651-255-1999


A 501(c) (3) public charity


---

This aircraft is piloted by Bryan Godlove, Captain (Grand Canyon Airlines) of North Las Vegas, NV and John C. Dillon (Grand Canyon Airlines) of Grand Canyon, AZ.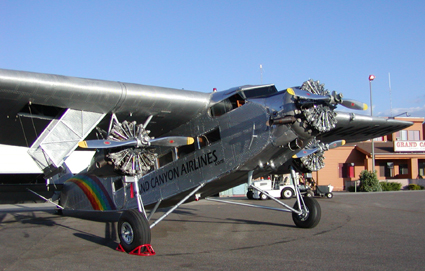 On Display

The Ford 5-AT-5-CS sits on display.


Grand Canyon flying Fords for 75 years!

Grand Canyon Airlines, initially known as Scenic Airways, was founded in 1927 and is believed to be the world


Bryan Godlove

Bryan Godlove's is the second generation Godlove in Ford Trimotor, 5-AT-74, N414H. His day job is flying the leading edge of technology as a Boeing 757, 767, and 777 Captain for United Airlines based in Seattle, Washington. His hobby is flying the "trailing edge of technology" as the Chief Pilot and Captain for the Grand Canyon Airlines Ford Trimotor, the airplane where commercial aviation began. Bryan's first flying job in the early 80's was with Grand Canyon Airlines (GCA) based at the South Rim of the Grand Canyon. While at GCA Bryan was fortunate to be one of the youngest pilots to ever get a type-rating in the GCA Ford Trimotor 5-AT-11, N76GC. This was extremely special because Bryan received this type-rating from his father, Bernie Godlove who also flew the Ford Trimotor. Bryan and his father flew Ford Trimotor N76GC, and its sister-ship Ford Trimotor 5-AT-74, N414H. In 1984 both Bryan and Bernie flew the reverse schedule recreation of the first transcontinental flight (TAT Airlines) from Los Angeles to New York in N414H as part of the 75th year anniversary for Pratt & Whitney and the 50th year anniversary of Grand Canyon Airlines. Bernie was also a Senior Captain at United Airlines so the two had the opportunity to fly together in the day job when Bryan was hired by United. Bryan lost his father a few years ago but is now occasionally joined in the Ford Trimotor cockpit by his 12-year-old son, Kelby Godlove who is probably the youngest person ever to have logged many hours in a Ford Trimotor. One this is for sure, the Godlove family loves the Ford Trimotor! Bryan is married to his lovely wife, Brenda and they have three wonderful children - Kelby (12), Haley (10), and Hannah (8).

Bryan Godlove is honoring Frank Free.


John Dillon

John Dillon is the General Manager for Grand Canyon Airlines (GCA) and lives at the Grand Canyon in Northern Arizona. GCA is an extremely unique company that is believed to be the world's oldest air tour company still in continuous operation. Grand Canyon Airlines (initially known as Scenic Airways) began in the late 20's with a fleet of Ford Trimotors and built and founded Phoenix Sky Harbor Airport in November 1928. Working to preserve this special history, John and GCA's ownership are on a quest to acquire one of each airplane type that GCA has ever owned or operated. One of those key airplanes is obviously the Ford Trimotor, which John has grown to love more than any other airplane on earth! John earned his private pilots license just three years ago but has been working in aviation for over ten years. He is now honored to be the co-pilot on the Ford Trimotor with Bryan Godlove. John and his wonderful wife, Mika, have three beautiful children - Karisa (6), Yutah (4), and Kobe (3).

John C. Dillon is honoring Byron S. Warner.


Ford Trimotor 5-AT-C, Serial #74, N414H, NAT ship #17

This aircraft is serial number 74, the 155th Ford Tri-motor built. Its first flight was September 4, 1929. It operated as a Ford Motor Company factory demonstrator aircraft. During this period the aircraft was equipped with twin metal floats, accumulating 249 hours as a seaplane. In 1931, the aircraft operated under an experimental license due to the use of a modified triangular vertical stabilizer. On November 4, 1932 5-AT-74 was sold to Pan American Airways operating in the New York City area. In 1935, 5-AT-74 moved south of the border and began operations in Mexico City, for Cia Mexicana de Aviacion registered as XA-BCX and later XA-BKS. It came back to Pan American in 1936 and then back to Cia Mexicana de Aviacion. In May 1941, it moved further south to Guatemala operating for Cia Guatemalteca de Aviacion in Guatemala City. 5-AT-74 stayed in Guatemala operating as LGAFA until 1950.

Recovered by Robert Waltermire in March 1950, 5-AT-74 was returned to the United States and was reconditioned for use as an aerial sprayer fighting a grasshopper plague. At this time Northwest Agricultural Aviation Corp out of Choteau, Montana operated it. Between 1956 and 1959, 5-AT-74 had a series of owners before finally falling into dereliction and disrepair in Florida. 5-AT-74's salvation came at the hands of John and Katherine Louck of Monmouth, Illinois. When Louck found the aircraft in Florida, it was in less than pristine condition being described as "full of frogs, snakes, bugs, etc." He worked for two weeks cleaning and making the aircraft airworthy to ferry it to Monmouth, Illinois. A myriad of problems caused the trip to take 68 days covering 1700 miles. Louck bought 5-AT-74 with the intention of barnstorming it, and he did! It was reported that in one year 5-AT-74 carried 17,000 passengers, 2800 of which were carried in one five day period at Rockwell, Illinois. 5-AT-74 operated in this capacity until 1965. Louck carried a total of 100,000 passengers in 5-AT-74 while he owned it. During 1963, it was leased to TWA for a cross-country series of flights starting from Los Angeles, California to Newark, New Jersey. Total time in the air was 27 hours, 48 minutes and total en route was 54 hours, 7 minutes. In February 1965 Louck sold 5-AT-74 to American Airlines in New York City. 5-AT-74 was present at the New York City World's Fair in 1965. Between 1965 and 1977, 5-AT-74 went through several more owners and during 1983, was flown out of the San Fernando Airport by Art Scholl and Bernie Godlove during a brief movie career in which it appeared in the movie "To Be or Not To Be", and was painted to represent a Ju-52.

In 1977, 5-AT-74 was acquired by John Seibold, then President and co-owner of Scenic Airlines and Grand Canyon Airlines and shortly afterward repeated its 1965 cross-country trek. This time it made the cross-country flight in company with a Scenic Airlines Twin Otter that was operating as a camera ship. Starting in Long Beach, California it flew to Las Vegas, Nevada. From there 5-AT-74 flew over Lake Mead and Hoover Dam and on to fly the length of the Grand Canyon. 5-AT-74 finished its cross-country trip in 7 days ending at New York's Kennedy Airport. While in New York, 5-AT-74 flew over New York Harbor and past the Twin Towers and the Statue of Liberty. Later it flew on to East Hartford, Connecticut to appear at Pratt and Whitney's 60th anniversary celebration before returning to Las Vegas, Nevada. Still owned by Grand Canyon Airlines co-owner and President, John Seibold, the aircraft is now used for promoting Grand Canyon Airlines and the history of the Grand Canyon air tour industry. She still flies a handful of times a year. 5-AT-74 can be usually be seen at the Grand Canyon Airlines terminal at the Grand Canyon National Park Airport in Arizona. www.grandcanyonairlines.com

Historical information by William T. Larkins, Ken Keller, and John C. Dillon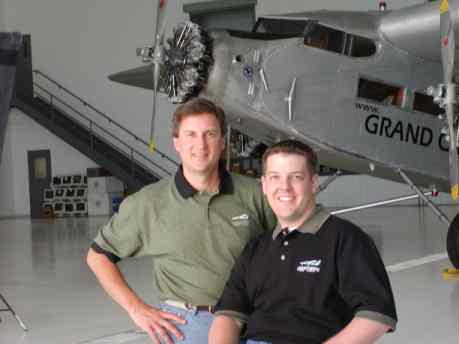 Bryan Godlove and John Dillon with the Grand Canyon Ford

Grand Canyon Airlines and It's History
---
Grand Canyon Airlines
---
Best Western Hotels
Grand Canyon Ford tri-motor Lodging Sponsors
---
AvFuel -- Grand Canyon Ford tri-motor Fuel Sponsors
---
---
ONE TWO

Read The Book Online


BUY A HARD COPY!
---