INKS ON THIS PAGE
---

---
Aviation Foundation
of America, Inc.

121 5th Ave. N.W.
Suite 300
New Brighton, MN 55112


651-255-1999


A 501(c) (3) public charity


---

This aircraft is piloted by Thomas Schrade of Las Vegas, NV and Waldo Anderson of Edina, MN.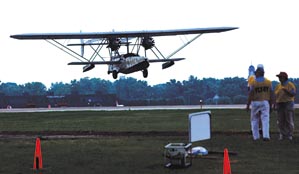 On Approach

The Sikorsky S-38 on its landing approach.


The twin engine Sikorsky S-38 flying boat, and the single engine S-39 also on the National Air Tour, are both painted in the scheme of the Martin & Osa Johnson expeditions to Africa.

In the first half of the 20th century this couple from Kansas captured the public's imagination through their films and books of adventure in exotic, far-away lands...Photographers, explorers, naturalists and authors, Martin and Osa studied the wildlife and peoples of East and Central Africa, the South Pacific Islands and British North Borneo...They explored then unknown lands and brought back knowledge of civilizations thousands of miles away through their films, writings and lectures.

These Sikorsky amphibious flying boats provided the Johnsons with heretofore-unimagined access to the remotest parts of Africa. The ships were painted in giraffe and zebra paint schemes, patterns which would be more accepted to the indigenous people who had for the most part, never seen an aircraft before.

The Sikorsky S-38 on the tour is one of two resulting from a commission in 1995 by Mr. Sam Johnson of Johnson Wax Co. who contacted Buzz Kaplan of Owatonna, MN to build a S-38. After Mr. Johnson


Waldo Anderson

Waldo Anderson is pilot who has spent all of his adult life in Aviation. Starting with the University of Minnesota in 1959 and retiring from there in 1997, as Chief Pilot. He has been a FAA designated pilot examiner since 1967, flown over 25,000 hours in over 50 different aircraft, or as the saying goes from Tailwheels to Jets. He is still active pilot, with currency in Cessna Citation.

Waldo Anderson is honoring Alexander Peter Krapish


Tom Schrade

Tom Schrade has owned several single and multiengine aircraft, along with a couple of seaplanes before venturing into the Sikorsky as a partner with Mr.


Martin & Osa Johnson Safari Museum
---
Holcomb's Aerodrome - S-38 Images of the Safari Ships
---
---
ONE TWO

Read The Book Online


BUY A HARD COPY!
---