INKS ON THIS PAGE
---

---
Aviation Foundation
of America, Inc.

121 5th Ave. N.W.
Suite 300
New Brighton, MN 55112


651-255-1999


A 501(c) (3) public charity


---

NEWS RELEASE
---
FOR IMMEDIATE RELEASE
The National Air Tour 2003
Announces Edsel B. Ford II as Honorary Chairperson.
Edsel B. Ford II honors grandfather's support of the original National Air Tours
MINNEAPOLIS (July 7, 2003) — The National Air Tour 2003, the historic flight re-creation of the National Air Tours that took place from 1925 through 1931, today announced that Edsel B. Ford II will act as honorary chairperson for the 2003 Tour.

"The National Air Tour 2003 is privileged to have Edsel B. Ford II as honorary chairperson," said Greg Herrick, president of the Aviation Foundation of America, the nonprofit organization that is coordinating the Tour. "His support mirrors his grandfather's role in the original Tours and reminds us of the vision that Edsel B. Ford held not only for the automobile, but also for aviation."

In the Air Again
Just as his grandfather Edsel B. Ford did for the original Tours, Edsel B. Ford II will flag-off the start of the Tour when it departs the Dearborn, Mich. area on Sept. 8, and present the trophies to participants at the completion. Weather permitting, more than 25 rare, vintage aircraft, including at least three Ford Tri-motors, will fly approximately 4,000 miles during a 17-day period. The Tour will bring living aviation history to people in 26 cities, through the media and over the Internet at www.NationalAirTour.org. The Tour is expected to return to Dearborn on Sept. 24.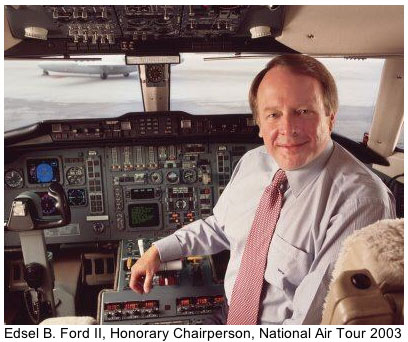 "My great-grandfather's and grandfather's spirits live on through the vision they created for Ford Motor Company," Edsel B. Ford II said. "Now with the National Air Tour 2003, we are reminded of their significant contributions to aviation as well. As we reflect on 100 years of powered flight and the 100th anniversary of Ford Motor Company, it is only appropriate that we recall the innovators and innovations through the decades that helped build our nation's systems of transportation."

Airplanes and Automobiles
Officially known in 1927 as the National Air Tour, the Tour was commonly referred to as the Ford Air Tour. Edsel B. Ford, a staunch supporter, provided the elegant trophy and Ford Motor Company provided financial support. Ford dealers along the various Air Tour routes often sponsored the Tour stops.

National Air Tour 2003 and Edsel B. Ford II
Edsel and Henry Ford contributed greatly toward the development of civil aviation by supporting ventures such as the National Air Tours, the development of radio navigation, terminals, hangars and other airport infrastructure, as well as all-metal transport aircraft. In fact, it was Ford Motor Company that perfected the use of radio navigation in aircraft and built the first concrete runway in the world at Ford Airport in Dearborn.

"Edsel B. Ford and his father, Henry, held a pioneering vision for aviation," Herrick said. "Our nation's aviation transportation system owes them a huge debt of gratitude. They developed, demonstrated and promoted the safety, reliability and necessity of a modern aviation infrastructure across the United States that would support commercial flight."

While it was the Wright brothers who discovered powered flight, it was Edsel and Henry Ford who helped the nation realize the potential of aviation. Edsel B. Ford II continues the Ford connection to aviation today with his ownership of Pentastar Aviation, a Pontiac, Mich.-based full-service aviation services provider.

The National Air Tours of Yesterday and Tomorrow
The National Air Tour 2003 is an official U.S. Centennial of Flight celebration that highlights the innovators and innovations of the Golden Age of Aviation — the period in aviation history between the two World Wars. The Golden Age marked a time of great advancements in civil aviation, spurred on by such ventures as air tours and air races.

The original National Air Tours helped build America's modern system of air transportation by showcasing the latest advancements in aircraft design, encouraging the development of airports and promoting the safety and reliability of civil aviation. The original National Air Tours visited more than 110 cities in their seven-year history. The cities often prepared for the Tour's arrival by improving their airports and in some cases, building a new landing field.

Celebrating the Centennial of Flight
In addition to Edsel B. Ford II's support of the National Air Tour 2003, Ford Motor Company is celebrating the 100th anniversary of flight through its presenting sponsorship of EAA's Countdown to Kitty Hawk – a centennial celebration of the Wright brothers' first powered flight, an innovation that forever changed our world. Led by EAA, presented by Ford Motor Company and supported by Microsoft Flight Simulator and Eclipse Aviation, this yearlong series of inspirational events honors the innovation and determination it takes to make world-changing dreams a reality. Countdown to Kitty Hawk features an interactive touring pavilion and the world's most-accurate 1903 Wright Flyer reproduction that will exclusively re-enact the Wright brothers' first flight at Kitty Hawk, N.C., on Dec. 17, 2003 — exactly 100 years later.

Ford Motor Company
Ford Motor Company (NYSE: F) is the world's second-largest automaker with approximately 350,000 employees, and dealerships in more than 200 markets on six continents. Its automotive brands include Ford, Jaguar, Land Rover, Lincoln, Mazda, Mercury, Aston Martin and Volvo. Its automotive-related services include Ford Credit, Hertz and Quality Care. The company's world headquarters is in Dearborn, Mich. Ford Motor Company officially observed its 100th anniversary on June 16, 2003. Additional information can be found on the company's Web site at http://www.ford.com.

Aviation Foundation of America
Minneapolis-based Aviation Foundation of America is a 501(c)3 public charity designed to preserve and promote America's aviation heritage at a grassroots level through initiatives such as historic flight re-creations, airport preservation projects and educational programs. The Aviation Foundation of America is an official partner in the U.S. Centennial of Flight Commission along with the FAA, NASA and the Experimental Aircraft Association.

For additional information about the National Air Tour 2003 including a complete list of Tour stops and historic photos, please visit www.NationalAirTour.org.

# # #

For a digital image of Edsel B. Ford II, please log on to the following Web site:
http://media.ford.com/


---
ONE TWO

Read The Book Online


BUY A HARD COPY!
---