INKS ON THIS PAGE
---

---
Aviation Foundation
of America, Inc.

121 5th Ave. N.W.
Suite 300
New Brighton, MN 55112


651-255-1999


A 501(c) (3) public charity


---

---
Page 3 - Continued from
Page 2


---
The air tours were an efficiency contest held each year from 1925 through 1931. Initially called the Commercial Airplane Reliability Tour, they were subsequently promoted as "The Commercial Airplane Reliability Tour for the Edsel B. Ford Trophy", sometimes shortened to the Ford Reliability Tour and later, the National Air Tour. The tour gave airplane builders an opportunity to take their latest models around the country in a well-publicized contest to "show the flag" for dealers and salespeople, and to convince the public in general that they should "take to the air." It also was used to encourage the development of airports. At the time "airports" consisted largely of farmers' pastures, County Fairgrounds, or a sandbar down in the riverbed. As cities competed for inclusion in the tours, the race was on to develop suitable airports to attract the organizing committee and to be a part of the new air age.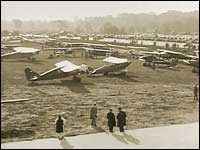 The first tour, modest in scope and size compared to later tours, visited twelve cities in the Midwest and returned six days later. Its announced purpose was, "to end the dominance of the military and the emphasis on thrills and stunt flying, demonstrate the reliability of travel by air in a predetermined schedule regardless of intermediate ground facilities."

When the National Air Tours came to town, everybody went out to see the latest airplanes, their romantic pilots, and what was often the town's new airport. Between 1925 and 1931, the tours introduced literally millions of people to the idea of air travel. Having been designed to convince the public of the reliability, and the viability, of travel by air, the National Air Tours were one of the most successful promotional efforts of the 20th Century. We are still enjoying the benefits today.
Back to Page 1
---
ONE TWO

Read The Book Online


BUY A HARD COPY!
---